This is my sister. My only sister.

Our abusers are long dead. 41 yrs separation, but yet the love remaines. We will always be "Sisters Forever".

Sister forever we are, and I love you.
Sisters Forever - She watches over me always.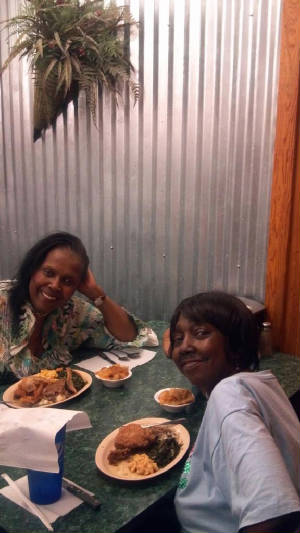 She Was Always In His Hands
Life was not easy for the girl child named Lelia(Lela), but you would not know it by the smile worn on her face, and how she loved others.

Although she was a little darling to her brothers, angel to mamma, and her sister's fierce protector, surviving diphtheria would be easy, compared to the abuses she would suffer. Being torn from her mother's arms as a young child, she had to learn to survive instead of dying.

She was strung up by her wrist and beaten with the bare wires of extension cords like a slave, but her strength remained. Later she faced having her children torn from her arms too through the same family.

In-spite of the hardships of life, her faith in God remained.

This she learned from watching mama.

She loved her children as she had been loved by mom and suffered loss that they may know love, be fed and not go through what she had endured.
She was a woman of virtue, an example of the believer and a fierce protector of those she loved.

Illness did not stop this little 5ft. 3inch power house.

She walked the talk before her children, grandchildren, and all who saw her.

She gave you love, hoping you would love one the other.

She served others and gave of her time, money and belongings to aid others.

She was an example of God's love for all who came to know her.

Lelia Savanna Nixon-Torrey has earned her rest.

She has poured out of her vessel all that God gave her to do.

Her talents did not go to the grave, but instead are alive in each of you.

Do what she taught you and you too will weather the storms.

She made it and so can you, because she learned to walk in God' footsteps and not her own.
More than this, she learned how to lean and depend on God, that he may carry her when the load became heavy.

Your mother and grandmother is not dead, but alive forever more.

Honor her by living your best life, that when the winds of God whisper your name, you too will be ready to answer the call.

Jesus went to prepare a place for us, and as promised, He will return for us.

If you hold to your faith in God as she did , someday you too will see her again and in peace.

Until then, love and not hate.

Honor her memory by following her lead.

Do good even to those that mean you ill, and always remember that you too are in His hands.
Rest my sister; our modern day Job.

You fought the good fight of faith to the end. Life is but a vapor that fades away, but your life's work live on in those you poured into.
Children, when you feel the wind against your face, it's her love.

When you cry and a hand is felt in your back, it is the Father.

Know that you will never walk along, and that this too shall pass.

Remember her smile, teachings, hugs, that crazy look and her love will never die.
October 12, 2014 Ms. Alice B. Nixon-Barr.

This work of love is not to be duplicated in any form, placed in a retrieval system or used in any way, without the written permission of the above author, who is her sister, or her immediate family.
We Celebrate the Life and Legacy of
Lelia (Lela) Savanna Nixon-Torrey
Who entered her rest October 12, 2014
Enter supporting content here